I posted this picture on instagram of me packing our hospital bags and I got lots of requests to share what I packed! I haven't delivered yet, so I don't know if I over packed or missed some things, but we will see soon! I just took recommendations from friends and online. So here's what I did!
For Me:
·
Nursing friendly Pajamas
I packed this exact set (ON SALE!) and I LOVE them! I also love these, these and these as well!
·
Going home outfit-loose Tee and sweat pants or Dress
I packed this dress because its so comfortable and it's too hot outside for anything else!
·
Warm Socks
These are the socks I packed because they're warm and cute!
·
Flip-flops for shower
I bought both mine and my husbands from walmart for 98 cents!
·
Nursing Bra
I packed this one and I love it!
·
Belly Bandit
I've heard great things about this and can't wait to try it!
·
Nursing Pads
The Lactation Specialist I took a class from recommended these pads. They're reusable and lessen the risk of infection
·
Nipple Cream
This is the one I packed. My friends recommended it.
·
Comb/brush
I swear by this brush. I couldn't live without it.
·
Toothbrush and toothpaste
·
Shampoo and Conditioner (travel size)
·
Deodorant (travel size)
·
Makeup Wipes (travel size)
·
Dry Shampoo (travel size)
·
Camera, memory card and charger
·
Extension cord
·
Toothbrush and Toothpaste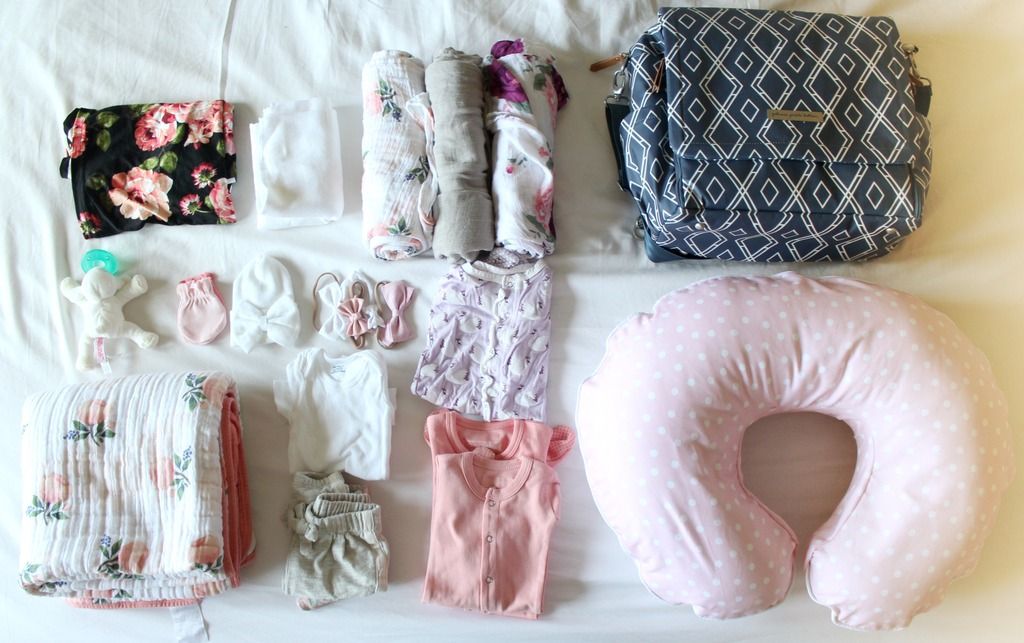 Packed in her Diaper Bag (It's on sale! and it's never on sale!)
·
2-3 outfits in newborn-0-3 Months
·
Hat
I got the all white hat on etsy
·
Burp rag
I just packed a few cloth diapers for this. I'm pretty sure I won't need them and the hospital will have something.
·
Boppy
I've heard you want to pack this if you're planning on breast feeding. This is the cover I got.
·
Wubbanub
I don't really know if I'll need this it's just too cute not to pack!
·
Photo ID's and Insurance Cards
·
Carseat and base I did lots of research and decided this carseat/stroller combo was the best price for the safety and functionality (use a 20% coupon!)
·
Cardstock for hand and foot prints